15.05.2023
​Russian chemists summed up the results after a year of work in conditions of uncertainty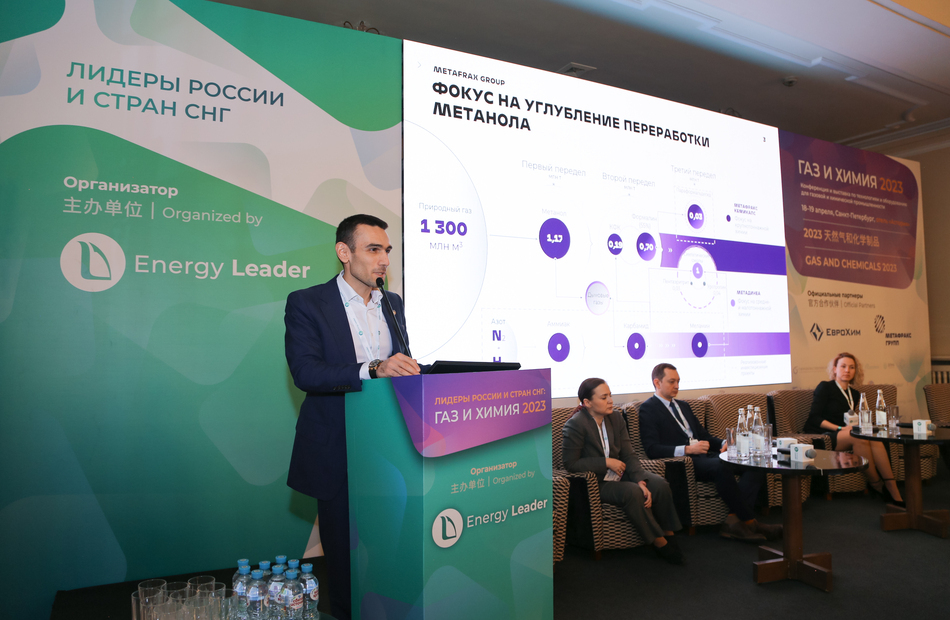 More than 160 representatives of leading chemical companies, suppliers of technologies and equipment discussed approaches to the implementation of investment projects in new conditions at the conference "Leaders of Russia and CIS countries: Gas and Chemistry 2023", which took place on April 18-19 in St. Petersburg. The partners of the event were "Eurochem" and "Metafrax Group" Companies, the organizer was the"Energy Leader" Company.

In his welcoming speach to the conference participants, the Chairman of the Board of Directors of Metafrax Group Mr. Armen Garslyan noted that the meeting of representatives of the gas and chemical industries is extremely important, relevant and timely, because after a year of work in conditions of uncertainty, the experience of overcoming difficult challenges by companies was formed.
"Now it's time to accumulate this experience and jointly formulate proposals aimed at preserving and developing ofthe market,"highlighted Mr. Armen Garslyan.
"The main issue,faced by Russian chemical and oil and gas companies after the leavingof Western companies, was the lack of the usual modern equipment and reliable licensors inside Russia for future investment projects," saidin his speech Mr. Levon Garslyan, Director of Strategy and Investments at Metafrax Group. Experts suppose thatthe main way to overcome this situation to bethe development of domestic R&Ds and expansion of cooperation with companies from "friendly countries".
The latest developments in the production of ammonia and methanol, as well as their derivatives, were presented by domestic companies: GIAP, Krastsvetmet, Science and technical center "Gazpromneft" , Gazpromneft - Industrial Innovations, Toptech, Engineering anf technologicical center"Himazot-St. Petersburg", Protech Engineering, Institute of Petrochemical Synthesis named after A.V. Topchiev of the Russian Academy of Sciences, ORGNEFTEKHIM HOLDING, IAS ENGINEERING AND CONSULTING, TOLYATTIAZOT, RESEARCH INSTITUTE FOR FERTILIZERS AND INSECTOFUNGICIDES, as well as Chinese Companies SINOPEC ENGINEERING GROUP and NINGBO FAREAST-TECH CATALYST ENGINEERING.
Much attention at the conference was paid to the issues of catalysts and their service. Presentations were made by: HAIHUA GROUP, ECOSTRIM, GLPK ENGINEERING and RESEARCH INSTITUTE FOR FERTILIZERS AND INSECTOFUNGICIDES,.
Know-how in the field of equipment for the production of chemical products, which significantly improve the efficiency of processes, were presented during the sessions and exhibitions by the companies: ENTECHMASH, ELMA-ASTERION, ISKRA-R, HEURTEY PETROCHEM RUS, TECHNIQUE LLC, ROSATOM-TVEL TURBOREF ENGINEERING, ANOD- TEPLOOBMENNYICENTER, STRONG, CHEMEQUIP INDUSTRIES. During the conference, 2 technical visits took place:to the production and modernization of ENTEHMASH compressors and tothe ELMA-ASTERION pumping and mixing equipment manufacturing plant, working with corrosion-active liquids.
The next conference "Leaders of Russia and CIS countries: Gas and Chemistry" is scheduled for spring 2024.