14.08.2023
​Commendation from the region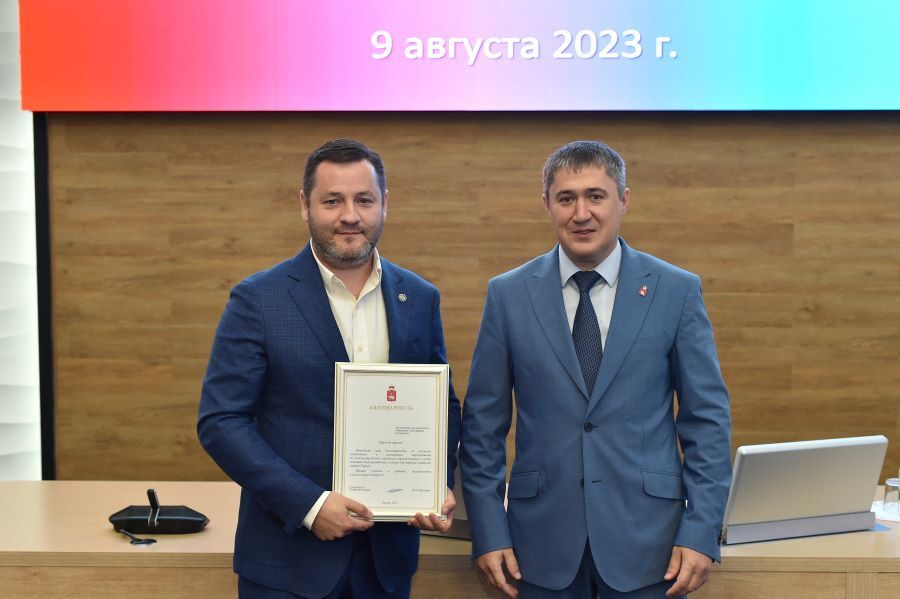 Metafrax Chemicals company's staff received commendation for the contribution to the improvement of parks and public gardens from Perm Region Governor Dmitriy Makhonin.
The award ceremony for the patronage companies was held at the meeting of the regional government. Simon Vikhnin, the Head of the working group for the sustainable development under the Board of Directors, Director of Legal Affairs of Metafrax Group received the commendation from the Head of the Region.
State Government appealed to the industrialists and entrepreneurs when preparing for the Jubilee of the regional center, and invited them to assist in the improvement of resting places for citizens. Metafrax responded to this initiative and allocated funds for the repair of the public garden named after F. Dzerzhinsky located in the regional capital.
The works on renovation of the public garden were carried out in 2022-2023. Paving slabs, side stone were replaced, benches and litterbins were installed along the perimeter of the public garden, and the fence was repaired.Finishing touch – greening. More than 6 thousand square meters of lawns were restored, 7 blue spruces, hydrangeas and 11 thousand of annual flowers were planted.
About 40 parks and public gardens were renovated in the Prikamye capital during preparation for the 300-year Perm Anniversary with the participation of patrons – industrial companies and other companies of the region.