16.08.2023
Exchange of development experience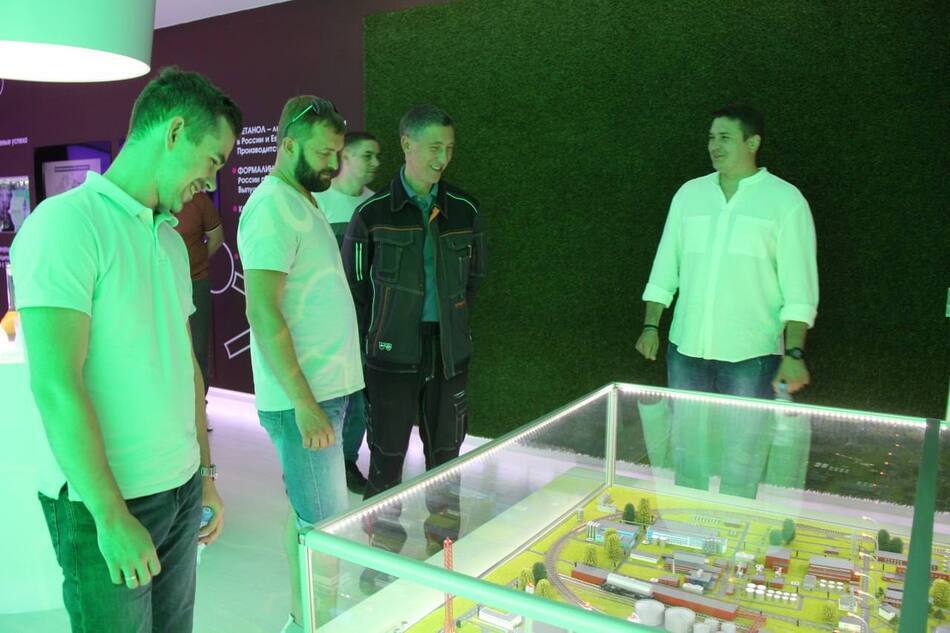 SIBUR representatives have visited Metafrax Chemicals
On August 12, Vladimir Daut, Member of the Board of Directors of Metafrax Group, and Aleksandr Vdovin, Executive Director of Metafrax Chemicals, led an enterprise excursion for the SIBUR Holding delegation in amount of 40 people. The visit took place for exchange of experience and practices on sustainable development between groups of the companies.
In the assembly hall of Metafrax Chemicals, Metafrax top managers reported about development stages, technologies and products of the enterprise. The technical infrastructure and work specifics under current conditions were also discussed with the guests. A productive dialogue took place on environmental and industrial safety, logistics and product sales issues. Rashid Shakirov, Deputy General Director on Personnel and Social Affairs, reported about the HR policy of Metafrax Group.
The delegation had a look at the enterprise: the methanol production, the paraformaldehyde plant, the Ammonia-Urea-Melamine Complex (AUM) and other plants. During the visit, the company continued to discuss issues of development strategy and social responsibility of the enterprise, shutdown activities, equipment installation and operation, interaction with contractors and corporate culture.
"We create labor conditions for comfortable working. This generates a diligent attitude to work, increases internal motivation and has a positive impact on the final result," said Aleksandr Vdovin.
SIBUR representatives liked the well-maintained area of the enterprise, a lot of greenery and flowers. The guests highly appreciated the level of production culture and the company development:
"When you visit Metafrax, it's hard not to point out the involvement and fire in the eyes of its managers. You can feel how much they care about the plant. Mr. Daut presented the enterprise as his child, which he raised in his arms. His amazing knowledge, ideas and stories left no one indifferent. The state of the plant itself shows the caring attitude of its employees. It is pleasant to come to the enterprise, which is well-maintained. You can see that every corner is treated carefully by people who are concerned and involved. Such as Mr.Vdovin. You can see that Metafrax has become his second home. Thank you very much for diving into the enterprise history!" stated Maksim Lenkov, Chief Engineer of JSC Sibur-Chemprom.
At the end of the meeting, the participants visited the corporate museum of Metafrax, where Sergei Kuzivanov, Head of the Personnel Education and Training Sector, spoke about the company history.