15.06.2023
​For partnership development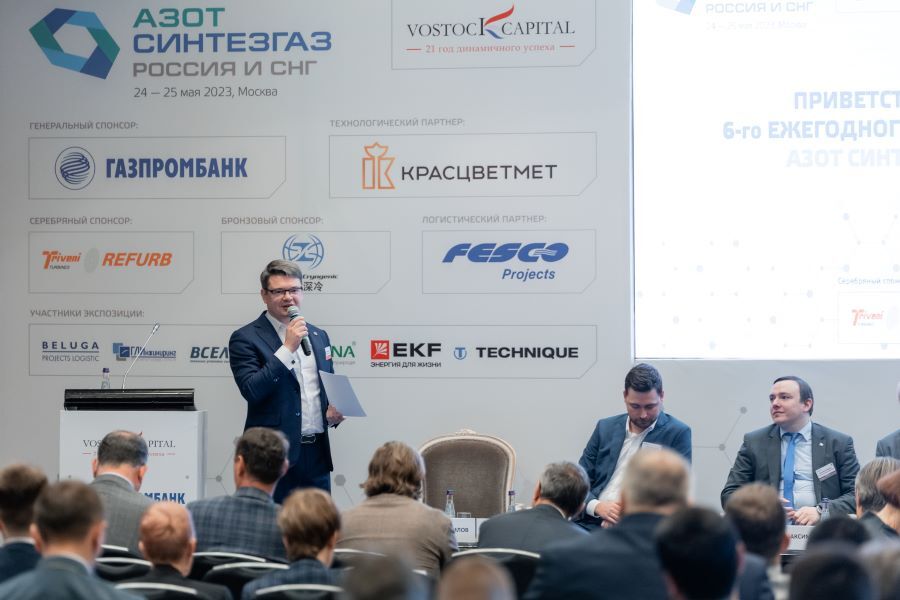 Metafrax Group delegation has participated in a yearly congress "Azot Sintezgas. Russia and CIS".

The congress, which took place on 24-25 May in Moscow, traditionally assembled representatives of the leading manufacturers of nitrogen, methanol, ammonia and mineral fertilizers from Russia and CIS countries, state authorities, regulatory authorities, production technologies licensors, developers, vendors and suppliers of equipment, engineering and design and construction companies, suppliers of technologies and services.
Metafrax Group delegation was represented by strategy and investment director of the holding Levon Garslyan, deputy director on strategy and investments Evgeniy Gavrilov, head of strategy and development department Lydmila Zueva, Metafrax Chemicals technical development director Andrey Eremeev and deputy general director – technical director of Metafrax Engineering and technological center Nicolay Ilykhin.
The discussion at the plenary session, which was moderated and attended by Evgeny Gavrilov, was built around the current projects in the field of large-tonnage chemistry. The urgent topic of equipment import substitution was reflected in the presentation of the experience of domestic companies not only in terms of reorientation of projects to producers from China, India and CIS countries. It was also noted that Russian manufacturers of equipment have started to provide services of engineering of production technologies, in particular, turnkey design of production facilities.
Apart from that, at the plenary session were discussed current methanol market, adjustments of scheduled and new projects due to present excess of capacities, as well as artificial intelligence impact on analytics of issues and development strategies of investment projects.
Within the third section "Methanol and ammonia: construction and revamping projects - updates and development perspectives" Levon Garslyan has presented a vision of the current situation by Metafrax Group in the industry as of 2023, as well as how the companies of the holding are adapting to the new conditions. The manager has noted the continued relevance of last year's challenges, and the ability of the chemical industry to respond to them through the continued potential for development in the domestic market in terms of deeper product processing and product range expansion.
At methanol market example there was noted the impact of obtaining technological and personnel sovereignty, which, in combination with opening new ways of methanol application, can facilitate support of existing production scopes. In general, it was noted that aggregation and partnership among industry representatives are one of the key factors to keep the market stability. As a proposal to develop this partnership, Metafrax Group representatives mentioned the idea on necessity to create a separate industrial union of methanol manufacturers.
The topic of the fourth section, whose moderator and participant was Lyudmila Zueva, was "Real Cases of Logistics Process Optimization". Speakers representing major chemical and logistics companies talked about their work in the changed realities, disruptions in established supply chains and experience in developing new logistics schemes in the current geopolitical situation. The speakers shared their experience in building relationships with new transportation companies, and how logistical problems are solved now in the implementation of major gas and chemical projects.
As a part of all the congress sessions, representatives of the largest companies of the industry have discussed the main issues in processing of synthesis gas, among which were noted lack of skillful personnel, exit from the market of technologies and equipment licensors, as well as difficulties, which are related to maintenance activities on the plants.
---
Yearly congress and exhibition "Azot Sintezgas. Russia and CIS" is a professional closed event to discuss current issues of development for synthesis gas processing. In 2023 on the exhibition were registered over 250 participants.