25.04.2023
​Moving to a new level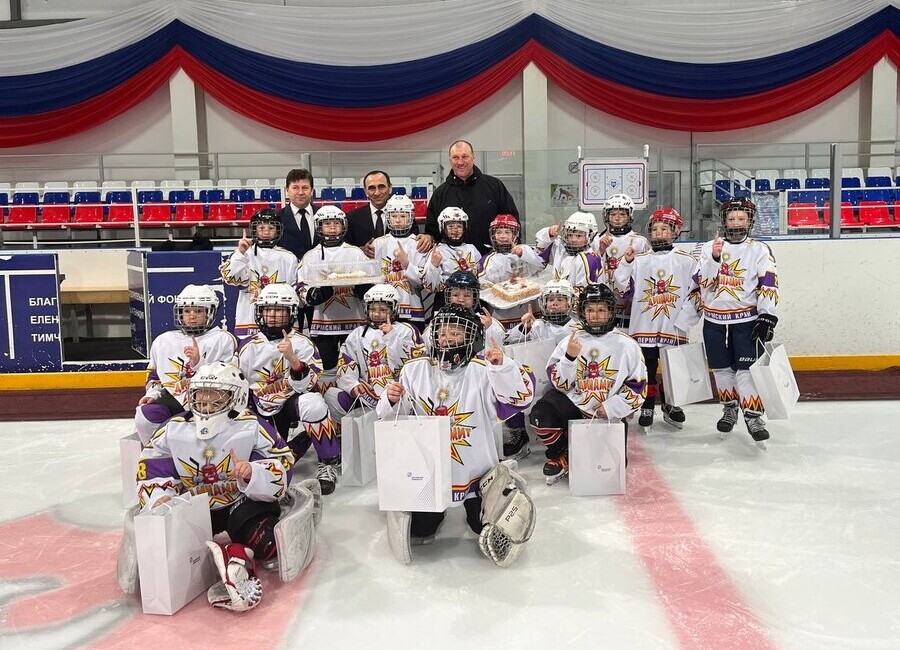 The ice arena is only 4 years old, and Gubakha's hockey players have already collected a lot of victories.
Chairman of the Board of Directors of Metafrax Group, Member of the Legislative Assembly of the Perm Region, Armen Garslyan visited the "Gubakha" Ice Arena. He personally congratulated the young hockey players who successfully performed at the All-Russian tournament "Golden Puck".
This year the team of the children's and youth sports school "Gubakha" became the champion of the regional stage of the All-Russian tournament "Golden Puck". This victory gave the children a ticket to the games of the "Golden Puck" of the Volga Division in Salavat city (Bashkortostan). And there Gubakha sportsmen showed their skills. During the competition the Gubakha'schildren played six games and failed to win only one of them. Thus,the boys, who are trained by the honored coach of Russia Vladimir Kolesnikov, became bronze medalists. The player of the team Makar Shimf is recognized as one of the best offensive players in the tournament – he took the third line in the ranking.
The "Gubakha" indoor ice arena began working in 2019. On April 18, it turned four years old. The number of young hockey players in Gubakha is gradually growing. The children stand on the ice since they are three years old. In addition, a branch of the regional sports school "Academy ofthe Team Sports of the Perm Region" was opened on the basis of the ice arena. Now more than 160 sportsmen visit the "Gubakha" ice arena, among them 120 children with the age from 3 to 18 years from the town's sports school and about 45 people from the Academy of the team sports.
- The bronze medal in the "Golden Puck" competition is a serious level in training of the children of the Gubakha's team, which gives hope for the gold medal. I know that each of you has been preparing very seriously for the tournament. During the tournament you demonstrated a real team spirit, coordination and power – that's what distinguishes the Gubakha'sresidents, - Armen Garslyan noted, - Special thanks to the coach – Vladimir Kolesnikov. You are training future champions!
Details are available on the "MediaKUB" information portal: https://mediakub.net/article/perehodim-na-novyy-uroven
Video plot: https://mediakub.net/article/s-dnyom-rozhdeniya-ledovaya-arena-gubaha